How to clean Sophie la girafe?
---
Under normal use of Sophie la girafe and in accordance with packaging instructions, cleaning the toy's surface using a cloth moistened with soapy water is all that is needed. Please note that the toy's whistle leaves a hole on the surface. Users must therefore ensure that water does not enter inside the product during cleaning. For this same reason, it is important to refrain from rinsing or submerging Sophie la girafe and from placing the toy in the dishwasher. If required, it is possible to spend more time scrubbing with your cloth moistened with soapy water. In fact, the longer the time spent scrubbing the product with soap, the more effective the cleaning. To see a visual explanation of the cleaning instructions for Sophie la girafe, please watch our video: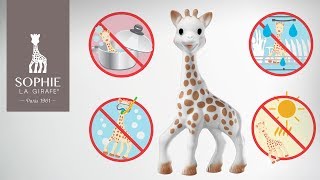 ---
Can Sophie la girafe be sterilised?
---
In accordance with what is written on the product packaging, we do not recommend sterilising Sophie la girafe. Known sterilisation methods require partial or full immersion of the product in a sterilising solution (boiling water or water with a sterilisation tablet) that could damage it.
---
Can Sophie la girafe be placed in the bath?
---
It is important to remember that Sophie la girafe is not a bath toy. Should water enters the product, there is a risk of damage to the whistle and the product itself. For bath time, we offer other toys (made of natural rubber or plastic), that are specially designed to entertain your baby in the water. Discover these products: So'pure bath toy Il était une fois... bath toys Fresh touch bath toys
---
Is there a risk for children if water stagnates in Sophie la girafe?
---
There is no specific risk for your child. However, as with any hollow-bodied product, water entering it and remaining stagnant can transform into mould. We kindly remind you that if the cleaning and usage instructions are observed, there is no reason for water to penetrate inside the product.
---
Can I keep Sophie la girafe and give it to my next child?
---
Intended for infants and promoting the development of all 5 senses from the earliest age, it is also meant to be put in baby's mouth to relieve his sore gums during teething. Therefore, for hygienic reasons, this product must not be used by several babies, exchanged, given to another baby or resold. Just as with a toothbrush, pacifier or feeding bottle nipple, this toy must only make the happiness of a single "little" owner. Furthermore, it is important to remember that Sophie la girafe is made from natural rubber; a "living" material that changes over time. Therefore, we do not recommend the use of Sophie la girafe by a second baby.
---
---
ROLLINE​
Palpeurs en bois de charme